Picture Medley
Build a photographic mosaic composite using your photo collection.
Assemble your trove of digital images into an amazing new image
Up close, you can easily see the individual images.
Features
Create your own Picture Medley in four easy steps!
Smart defaults allow you to focus on medley creation.
Many customization options give you creative flexibility.
Easily include the Target image as a tile.
Override the smart defaults in the "Advanced Options" dialog.
Disable the "use tiles only once" feature.
Transparency is supported in Medley imagery, enabling very creative effects.
Several visual effects including a "Frost" option where the overall medley is tinted slightly with the colors of the target image, which helps to make the target image more visible especially when you don't have enough of the right colors in the image tiles.
Project files allow you to pick up where you left off with a previous medley effort, and also include details about the generated medley to help you find specific tiles or understand how the tiles were used.
HTML output uses ImageMap for an interactive Medley experience!
Why "Picture Medley"?
In musical terms, a medley combines a variety of melodies to form a new composition. When you listen to a musical medley, you hear and can recognize the individual melodies; and the overall composition has its own overall theme and presence.
In photographic terms, then, a medley combines a variety of photographs to form a new composite image. Similar to a musical medley, you can see and recognize the individual images within the Picture Medley, but the overall composite image captures a bigger concept than the individual images can capture on their own.
Medley images are also referred to as photographic mosaics, or photographic montages.
Using Picture Medley
---
Once you download and install Picture Medley, you will be on your way to creating your own composition in four easy steps.
Step 1: Select The Target Image
Step 2: Select Source Images for Tiles
Step 3: Customize the medley
Step 4: Generate the medley
Take It Further
The Usage section above provides a great overview of the process. Here are a few more links to help you as you dig further into the software:
Gallery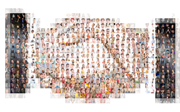 Theme Samples
PictureMedley embodies the idea that the whole can be greater than the sum of its parts. You can combine a collection of related images to assemble an overall image that represents a theme that the images share in common.
Go

Community Samples
Creations kindly shared by Picture Medley users.
Go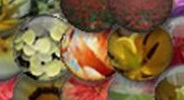 Effect Samples
PictureMedley includes a number of effects for tiles. Some are useful to help the target image show through, others are purely for fun.
Go

Create an amazing composite with your photos!
PictureMedley runs on Windows computers from Windows XP to Windows 10.
If you have a Mac, you can use software like Apple Bootcamp, Parallels Desktop, or Oracle VirtualBox to create a Windows environment, and PictureMedley will run fine on your Mac.
Download now and get started!