PhotoSheet
Help your photos tell their story!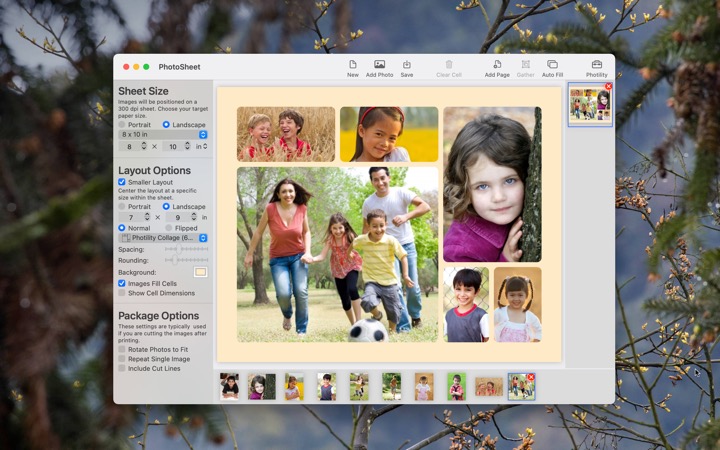 Many Possibilities
Dragging photos into the app window is just the beginning. PhotoSheet opens up new possibilities for your photos!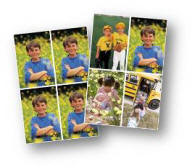 Wallet Photos
Print your own wallet prints at a fraction of the cost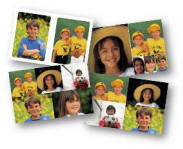 Custom Sizes
Create prints that are perfectly sized for the photo frames in your home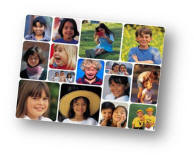 Collage Prints
Create simple collage images for quick scrapbook pages or photo frames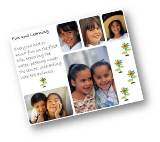 Flexible Layouts
Expand your creative options with flexible page layouts
Inexpensive Wallets
Save money on wallet photos. If you've ever uploaded photos to a photo printing service, you've seen the option for wallet prints. Photo printing services typically print wallets on a 4x6 or 5x7 sheet. One photo printing service I sampled had 4x6 prints at $0.15 but a 5x7 containing 4 2x3 prints cost $1.79! That's 44 cents for each wallet image! By putting the images on a 4x6 print and sending that to the printing service, the wallet images cost less than 4 cents for each image!
Good with your personal photo printer: My old HP PhotoSmart 385 4x6 photo printer can generate a 4x6 sheet of wallet prints, but only if printing images directly from a camera card. Once again, PhotoSheet comes in handy.
Rotate and Crop: You decide whether images are automatically rotated and cropped to fit the 2x3 aspect ratio.
One image or many: Fill a sheet with identical images or different images. This is handy if you're sending out multiple wallet photos to friends and family: save yourself time and rubber bands by sending everyone a sheet of unique photos they can cut themselves, rather than cutting them yourself and dividing up all of the tiny pictures. (Windows version: drag a single image and it will be duplicated automatically. Mac Version: select the "Repeat Single Image" box and the selected image will be repeated.)
Scrap Books & Collage Layouts
Make your scrapbook pages more interesting! PhotoSheet gives you control over the size and layout of images for the scrapbook layout you're working on.
Support for variable number of images: There are a host of sheet layouts offering space for anywhere from just 2 images to over 30!
Tweak the layout! You can change the size and position of individual images within the layout. On Windows, press Shift or Alt when dragging the image. On Mac, use two fingers to pinch, stretch, or slide the image under the cursor.
Make a sheet of 16 1" x 1.5" images: This is a great tool for the scrapbooking person in your family. Images this size fit perfectly in slide mounts.
Fill photo collage picture frames in your home that hold 4x6 photos. If you have too many photos to fit in the frame, this software will be handy for fitting multiple pictures into a single 4x6 slot in the frame. See what the sheet will look like, rearrange the photos on the sheet, and control the rotation of individual photos.
Even More
Check these links for more ways PhotoSheet can help you take your photos farther.

Do more with your photos!
PhotoSheet runs on Windows computers from Windows XP to Windows 10, and Mac computers running OSX 10.12 and later!
Download now and get started!