PhotoSheet
Help your photos tell their story!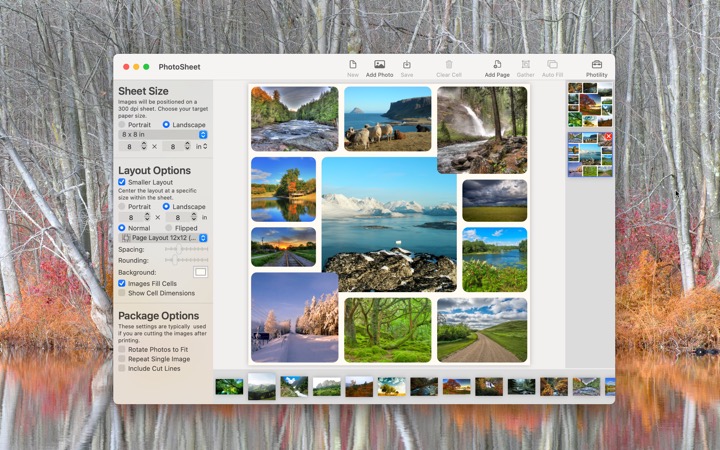 Many Possibilities
Dragging photos into the app window is just the beginning. PhotoSheet opens up new possibilities for your photos!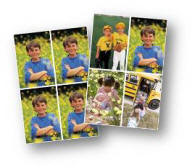 Wallet Photos
Print your own wallet prints at a fraction of the cost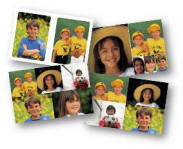 Custom Sizes
Create prints that are perfectly sized for the photo frames in your home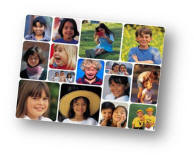 Collage Prints
Create simple collage images for quick scrapbook pages or photo frames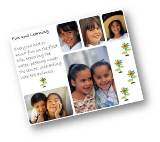 Flexible Layouts
Expand your creative options with flexible page layouts
Cheaper Wallet Photos
Save money on wallet photos. If you've ever uploaded photos to a photo printing service, you've seen the option for wallet prints. Typically wallets will be printed as 4 images on a 4x6 or 5x7 sheet. Photo printers charge a premium for this service. By putting the images on a 4x6 image and sending that to the printing service, the individual wallet-size images cost a fraction of their regular rate.
Great for scrapbooking
Make your scrapbook pages more interesting! PhotoSheet gives you control over the size and layout of images for the scrapbook layout you're working on. There are a host of sheet layouts offering space for up to 100 images!
Tweak the layout!! You can change the scale and position of individual images within the layout.
Make a sheet of 16 1" x 1.5" images that fit inside slide mounts. Or make a 4x6 print containing two 2.5" x 3" images reminiscent of Polaroid prints.
Adjust the spacing and add rounded corners to create the vintage photo print look.
Custom Prints
Prepare images to fill those photo collage picture frames in your home. If you have too many photos to fit in the frame, this software is handy for fitting multiple pictures into a single slot in the frame. See what the sheet will look like, rearrange the photos on the sheet, and control the rotation of individual photos.
Create a dramatic effect by centering a 5x5 layout on an 8x8 sheet with a custom background color.
Package Prints
Fill a single sheet with copies of a single image, great for wallet photos or giving package prints to friends.
Automatically rotate photos to make the best use of individual slots in the layout. A great option if you are planning on cutting out the photo after printing.
Optionally include cut lines in the image to improve accuracy.
Quickly fill several sheets with photos using the same layout.
Easy to use
Imperial and Metric paper sizes! All of the A's and B's and P's are there for your choosing! If your favorite paper size is not in the list, don't dismay: you can enter any sheet size you like, in inches or centimeters!
PhotoSheet remembers your settings from one session to the next! If you frequently use the same layout or sheet size, you'll love this.
The film strip holds all of the photos you're working with, and page views help you build multiple pages using the same layout! Create package prints for several photos at once!
Choose a layout and automatically fill the open spaces with unused photos, or gather images together to use fewer pages!
Use two fingers on your trackpad or the scroll gesture on your mouse to reposition images in their cells. Hold the Option key (on the mac) to zoom.
"Show cell dimensions" to see exactly how large each image will be in the layout.
Use the "Smaller Layout" setting to control layout size independently from sheet size.
Use the eyedropper tool to easily match the background color to primary or secondary colors in the imaages!
Even More
Check these links for more ways PhotoSheet can help you take your photos farther.

Do more with your photos!
PhotoSheet runs on Windows computers from Windows XP to Windows 10, and Mac computers running OSX 10.12 and later!
Download now and get started!