PhotoSheet
---
Combine several separate images into a single image with a layout of your choosing.
---
---
This software combines several separate images into a single image with a layout of your choosing. There are a number of applications for this, including: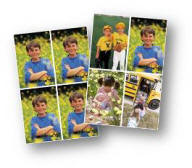 Save money on wallet photos. If you've ever uploaded photos to a photo printing service, you've seen the option for wallet prints. Typically wallets will be printed on a 4x6 or 5x7 sheet. One photo printing service I sampled had 4x6 prints at $0.15 but a 5x7 containing 4 2x3 prints cost $1.79! That's 44 cents for each wallet image! By putting the images on a 4x6 print and sending that to the printing service the wallet images cost less than 4 cents for each image!
Good with your personal photo printer: My HP PhotoSmart 385 4x6 photo printer can generate a 4x6 sheet of wallet prints, but only if printing images directly from a camera card. Once again, PhotoSheet comes in handy.
Rotate and Crop: You decide whether images are automatically rotated and cropped to fit the 2x3 aspect ratio.
Fill a sheet with image or many: Give it a single image or multiple images to generate a sheet filled with identical images or a sheet of different images. The program decides how to fill the sheet depending on whether you give it just one image or more than one. (If you give it more images than fit on a given layout multiple sheets generated, one for each set of images. If you give it more than 1 but not enough to fill all of the pages, you'll end up with empty space on one of the sheets.) This is handy if you're sending out multiple wallet photos to friends and family: save yourself time and rubber bands by sending everyone a sheet of unique photos they can cut themselves, rather than cutting them yourself and dividing up all of the tiny pictures.
Make your scrapbook pages more interesting! PhotoSheet gives you control over the size and layout of images for the scrapbook layout you're working on.
Support for variable number of images: There are a host of sheet layouts offering space for anywhere from just 2 images to over 30!
Tweak the layout! You can change the size and position of individual images within the layout.
Make a sheet of 16 1" x 1.5" images: This is a great tool for the scrapbooking person in your house. Images this size fit perfectly in slide mounts (those scrapbooking enthusiasts out there should know what this means...)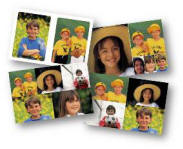 Use your 4x6 photo printer to fill the photo collage picture frames in the house that hold 4x6 photos. If you have too many photos to fit in the frame, this software will be handy for fitting multiple pictures into a single 4x6 slot in the frame. See what the sheet will look like, rearrange the photos on the sheet, and control the rotation of individual photos.
You can edit your own custom layouts, and download new layouts from Photility!
PhotoSheet includes a host of new custom page layouts you can use directly or as inspiration for new page layouts of your own. The layouts are optimized for a variety of popular scrapbooking page sizes, and you can even change the spacing or soften the corners of the photos in your page!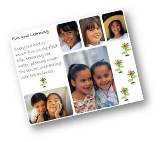 Don't stop at the page layout; add text, borders, and other embellishments to create even more interest in your photos!
How do I use it?
Easy...
Run the application from the Start Menu
Find the image you want to make wallet images for
Drag the file into the "Files" section of the application
Choose a sheet size and layout
Click "Start". You'll see an hourglass while the program is doing its work.
After a moment Look in the directory you dragged the image from. You should find a file called something like "PhotoSheet 4x6 (DSCN0944,DSCN0945,DSCN0946,DSCN0947).jpg"
That's it. Upload the generated file to your favorite printing service or send it to your photo printer.